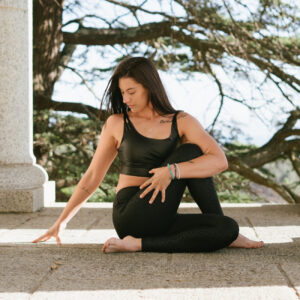 If you're like most people, you can't seem to fit meditation and relaxation into your schedule, but this is exactly why we all experience so much stress and illness!
How would you like to reduce life sucking stress, sleep like a baby and balance your emotions? You can do this by simply closing your eyes and allowing your body to heal itself. You can discover ancient meditation techniques that easily remove stress and allow for greater health and well-being.
The Qi Gong Meditation facilitates rapid healing through:
The ancient Chinese science of sound, and
Guided imagery culled from my 28 years of experience in Chinese medicine.
And you get the benefits in less than 30 minutes!
In less than 30 minutes each day, Qi Gong's healing power will bring you fast results! And it's simple, fun, and easy-to-follow! Even my patients who have used this guide meditation two or three times per week (or even less) have experienced dramatic results. But the more you use it, the faster your health will improve and your stress will melt away.
Studies have shown that Qi Gong can:
Improve the quality of your sleep
Reduce pain
Balance your emotions
Stabilize your blood pressure
Reduce your risk of stroke
Increase blood flow to your brain
Boost your energy, strength & vigor
Extend your lifespan
And more!*
I'm very excited to share with you how easy it is to eliminate the stress in your life!
Balance your internal organs and energy pathways naturally.
Create a deep state of relaxation and wellbeing.
Increase your loving energy toward yourself and others.
It is my great pleasure to share this knowledge with you and help you to achieve the health and well-being you deserve!
Sincerely,
Steven Sonmore
$24.95Add to cart
Will help you slow down…
"Qi Gong Meditation brings the East to the West. This calming guided meditation will help you slow down when you most need it, giving you energy for the rest of the day. Sonmore has created a wonderful meditation here."
Kevin Hogan
Author of The New Hypnotherapy Handbook, and Tinnitus: Turning the Volume Down
This program reduces stress and develops healing energy…
"This program reduces stress and develops healing energy. The guided Taoist meditation and healing music, using ancient Chinese sound principles, provides deep relaxation, even if you've never meditated before…"
Michael Reed Gach, PhD
Acupressure Institute Founder, author of Acupressure's Potent Points
An awesome guided meditation…
"Steven has put together an awesome guided meditation that has proven to relieve stress in healthy people as well as people with dementia. His voice is easy to listen to and the music is calming and not distracting. I will be using this in my practice and giving it to friends as a valued tool for healing."
Colleen Wold Hiebeler
N.A.R., Minnesota Masonic Homes